EXHIBITIONS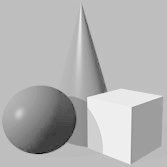 2023 SPRING EXHIBITION
Wednesday February 15 through Saturday April 15, 2023
Including Bethlehem, a mixed media piece by Tom Leedy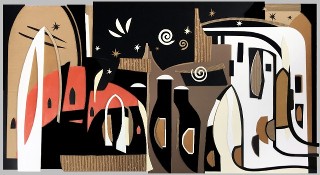 FIGURES OR FACES

Works that examine human emotions, figures or faces..
Including Tom's mixed media piece, Athena # 2
March 2 through 31, 2023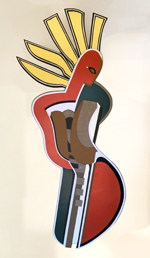 EXPRESSIONS 2021 - MARIN SOCIETY OF ARTISTS

A National Juried Online Exhibition.
Including a selection from Tom's current series of digital illustrations for The Iliad.
July 10 through August 21, 2021
SAN DIEGO MUSEUM OF ART - ARTISTS GUILD 2021 SUMMER EXHIBITION

Including 2D and 3D media, this international online show continues the guild's 106 year tradition of hosting juried exhibitions.
Featuring one of Tom's illustrations for The Iliad
June 8 through August 8, 2021
A DIGITAL ART SALON - SAN LUIS OBISPO MUSEUM OF ART
A juried exhibition of contemporary California Digital Artists
Featuring one of Tom's illustrations for The Iliad
March 5 through May 2, 2021

MULTIPLICITY
A one-man show of paintings by Tom Leedy
The Library Gallery, Encinitas CA
February 26 through June 15, 2020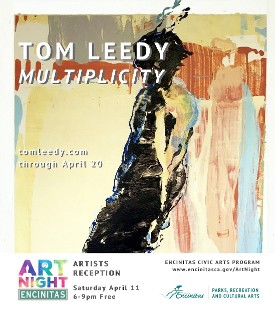 EXPRESSIONS
June 14 - July 8, 2019 at the Marin Society of Artists gallery in San Rafael, CA
A national juried exhibition in which selected artists interpret their ideas, thoughts and emotions in two and three dimensional form. Tom is proud to have his painting, Moonlight Noseride, included in the exhibition.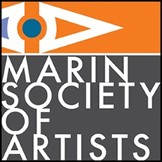 THE NEXT BIG THING
May 18 through June 24, 2017 at Studio Channel Islands in Camarillo, CA
Artists continuously challenge their own boundaries and explore their unique discoveries. Studio Channel Islands presents recent break-through pieces by various artists, the ones that led them to the horizon of their work's next evolution. The Next Big Thing included Tom's painting, Guitar and Water, the first in a series of abstract works.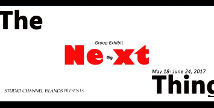 NEWPORT BEACH ART EXHIBITION - June 17, 2017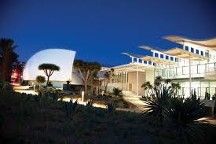 SEA and SURF
October 1st - December 29, 2016 at the Herbert B. Turner Gallery in Del Mar, CA
Tom's painting, Triola, received First Prize in this exhibition reflecting surf and water culture.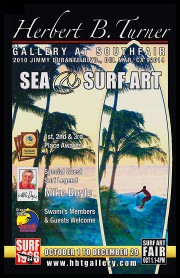 ART OF THE EQUINE
July 18 - Sep 24, 2016 at the Herbert B. Turner Gallery in Del Mar, California
Featuring all things equine, this exhibiton included three of Tom's paintings: Dark Horse, The Workout, and Bronte and Sterope. Located near the race track in Del Mar, the HBT is the Official Gallery of the Del Mar Thoroughbred Club.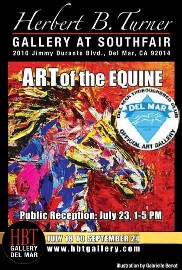 NEWPORT BEACH ART EXHIBITION 2016 - June 18, 2016

The 52nd Annual Newport Beach Art Exhibiton offered the public an opportunity to view original work up close and personal in an environment where they could meet the artists and discuss first-hand the content, process and meaning of the works shown. Limited to two pieces per artist, the show spanned a wide variety of style and subject matter. Tom's paintings, Spiked Wave and VBall Red X Killer were included in the show.
ISAP 7th ANNUAL INTERNATIONAL OPEN ONLINE SHOW 2016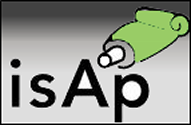 Duende 2, Tom's totemic image of Ravens, is included in this exhibition of acrylic paintings created by artists from all over the world.
VUELO
March - April 2016 at the Center of the Arts in Tubac AZ
Sponsor of regional and national exhibitions, The Tubac Center of the Arts is located in the heart of the dynamic arts environment in southern Arizona. Tom's painting, Duende 2, was featured in Vuelo (Flight), an international exhibition of works celebrating the spirit, power and beauty of birds.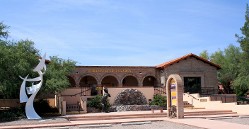 THE CROW SHOW '16
February 2016
Sponsored by The Studio Door gallery in San Diego for the second year running and curated by Michelle Diziel, Art Consultant and former curator with the Norton Simon Museum of Art in Pasadena, The Crow Show celebrates crows and ravens as icons of power and symbolism in cultural myth, story and imagination.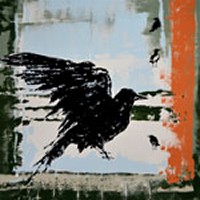 THE HOLIDAY ART MARKET
December 2015
Produced by The Studio Door gallery
HUMAN
Sep 28 through Oct 30 2015
At the Orange Country Creatives Gallery in Laguna Beach CA, Tom's work, Triola, received an Honorable Mention in this show exploring the theme of "What is it that makes us human?"
DOVE LIBRARY
Sep 27 through Oct 29 2015
Paintings by Tom Leedy at the Dove Library, Carlsbad, CA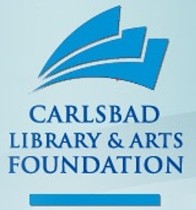 EXHIBITION OF FINE ART, SAN DIEGO COUNTY FAIR
Summer 2015
Paintings by Tom Leedy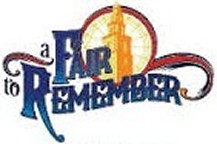 "MOMENTS" - ONE ARTIST'S VISION DISTILLED - Jan through Mar 2015
Paintings by Tom Leedy at the Civic Center Gallery, Encinitas, CA

THE CROW SHOW, HOMAGE TO THE RAVEN
February 2015
An international show juried by Jenna S. Jacobs, Curatorial Manager, Museum of Contemporary Art San Diego
Produced by The Studio Door in San Diego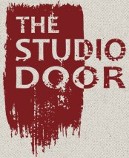 ORANGE COUNTY FAIR FINE ARTS COMPETITION
Summer 2015
Honorable Mention in the Professional Division received for Tom's painting, Triola, depicting a tri-partite surfer against an orange sky.